Fission-Steam in Australia, NWShelf give-away, green industry, Dorothy Napangardi, Green Duck Shooters, Bolivian fields
globalwarmingwatch
As if on cue the government is just about to receive a report it commissioned that was conducted by Professor John Gittus, and independent
(sic)
consultant to the Australian Nuclear Science and Technology Organisation (ANSTO).
Funnily enough
it will say that the latest type of nuclear power station is
economically competitive
with new coal fired power stations
---
platts
16May2006 Australia's North West Shelf joint venture Tuesday began loading .. in Karratha, Western Australia, for delivery to China's first LNG receiving terminal in .. Guangdong.
The 125,000 cubic meter cargo is the first shipment under a 25-year contract signed in October 2002 between the North West Shelf venture and China National Offshore Oil Corp.'s Guangdong Dapeng LNG Co. The contract covers the delivery of 3.3 million mt/year of LNG to Guangdong.
- Howards
infamous deal
where he sold 1/2 of NWShelf gas at
non-indexed
2002 prices!
No thought given to using that gas here to make Urea?
2/3 of the Nitrogen
in a young Chinese persons body has been through the industrial Haber process.
---
zoomchina
Friday, 31 March 2006 SYDNEY (Dow Jones)--A landmark gas contract with China stands to cost Australia's biggest natural resources project up to

A$20 billion

in lost sales due to contractual terms that fail to account for the increase in oil prices to record levels, the Australian Financial Review reports Friday.
another ref to Howards Bad deal on NWShelf gas sales.
rigzone & Fin Review
seem to have
dropped
references to this debacle
---
gbruno
on low grade U
---
abc
Funding blocked to Kyoto alternative 29 May 2006
ELEANOR HALL: The international climate change partnership championed by the Australian Government as an alternative to the Kyoto Protocol appears to be in jeopardy, thanks to one of its other key proponents, the United States.
The US House of Representatives has blocked funding for the Asia-Pacific Partnership on Clean Development and Climate Change, which was launched last year by Prime Minister, John Howard.
..
DAVID MARK: The Asia Pacific Partnership, or

AP6

, was announced with great fanfare last year as an alternative to the Kyoto Protocol.
..The AP6 partners - Australia, the United States, India, China, Japan and South Korea - would develop new technology to combat climate change..
.. Australia has committed $100 million to the partnership over five years.
.. United States, promised around $AU 60 million, but that money has now been blocked by the US House of Representatives
---
Green or just a
FAD
?
19May06 AUSTRALIA will steer a new round of global talks between 189 nations to build a post-Kyoto plan for climate change.
.. ..Australia's growing influence after its success in bringing the US.. new talks under the UN Framework Convention on Climate Change.
..also instrumental in establishing the Asia-Pacific Climate Partnership
Federal Environment Minister Ian Campbell said the Future Action Dialogue

[FAD!]

would reunite diverging parties within the climate debate, including all members of the AP6, developing nations and Kyoto countries.
..Australia's Greenhouse Office chief, Howard Bamsey, and his South African co-chair must draw up an agenda and framework for the next round of discussions, which will occur in Kenya this year.
---
nytimes
on greener industry:
.. At

DuPont,

the savings from energy projects has totaled $2 billion over the last decade and a half.

I.B.M.

saved $115 million since 1998 by avoiding 1.3 million tons of carbon emissions, or the equivalent of taking 51,600 cars off the road, according to WWF ..
..

Johnson & Johnson

decided in the late 1990's to meet the Kyoto requirements globally. From 1990 to 2005, the company reduced carbon emissions by 11.5 percent. Meanwhile, sales grew by 350 percent.
.. "The automobile industry always feels it is difficult .. "They always had to be forced to make progress."
Bill McKibben.."Anybody whose solution includes the phrase 'in 20 years,' hasn't quite caught on to where we are."
---
Its not clear why Beijing kow-towed to µsoft, Linux may thrive:
On March 31, Beijing announced that local computer makers must ship all their products with

licensed operating systems pre-installed

. The government has also started a drive to ensure that all computers in the country's sprawling bureaucracy are loaded with legitimate software.
After Beijing's decision to compel computer makers to install licensed operating system software, Microsoft signed licensing deals with the leading Chinese computer manufacturers Lenovo, the TCL Group, Tsinghua Tongfang and the Founder Technology Group.
.. Lenovo, the maker of personal computers, agreed to spend $1.2 billion on Windows software over the next 12 months.
..license fees would pay for software loaded in computers the Chinese company shipped to 65 countries and territories.
.. There will still be piracy for a considerable period of time," said Michael Chen, the Beijing-based general manager for Red Hat,
.. Some analysts suggest that the new rules will simply swell the number of computers loaded with

Linux.

The Chinese government has strongly encouraged the use of this..
---
Dorothy Napangardi SandHills of MinaMina 2002
from
norwoodmatt
More Dorothy at
crownpoint
_______________________________________________________________
Green Duck Shooters
climatecrisis
"A majority of

Arkansas hunters and fishermen

believe that global warming is an urgent problem in need of immediate action to stop, an environmental group's survey release Monday showed. Arkansas sportsmen also said they have seen evidence of global warming in the state, including warmer and shorter winters, hotter summers, prolonged droughts and a decline of wetlands and migratory birds in the winter, including

ducks."
---
google
videos of 11/9
---
gregpalast
Give it back, george: the Lay Loot that bought the white house
bush and republicans should give up ill-gotten gains
by Greg Palast
bbc
.. .. more Palast
..Privatisation blocked by industry
..Philip Carroll, the former CEO of Shell Oil USA who took control of Iraq's oil production for the US Government a month after the invasion, stalled the sell-off scheme.
Mr Carroll told us he made it clear to Paul Bremer, the US occupation chief who arrived in Iraq in May 2003, that: "There was to be
no privatisation of Iraqi oil
resources or facilities while I was involved."
amazon
gregpala03-20 Armed Madhouse, the book
---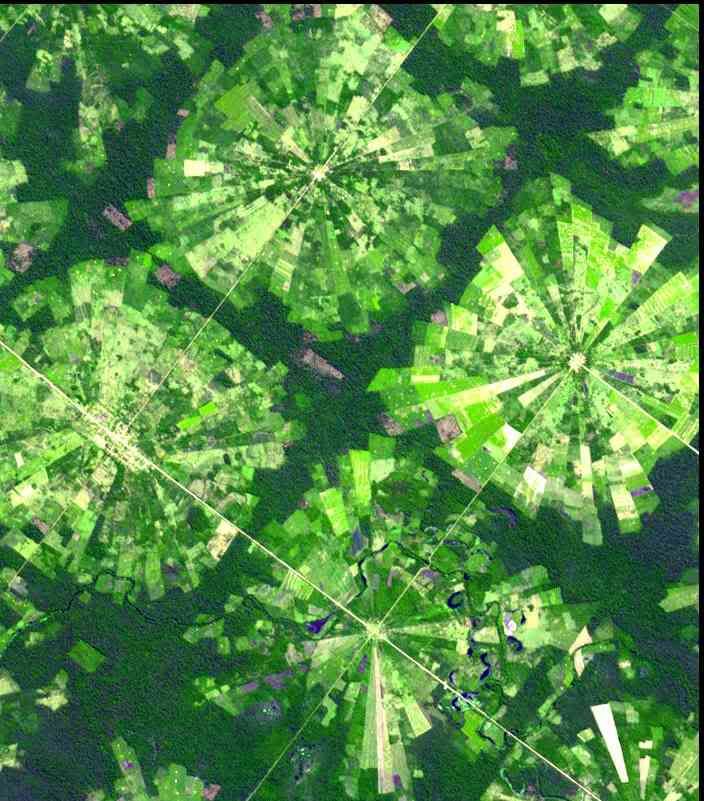 nasa
Land use Patterns
Near Santa Cruz, Bolivia (fourth), the pie-shape or radial-pattern fields are part of a
planned settlement scheme
in a rainforest area. At the center of each unit is a small community, which is surrounded by fields. A
small buffer of forest
separates the settlements from one another
___________________________________________________________
octopus
picture
Fission-Steam in Australia
NWShelf give-away
green industry
Dorothy Napangardi
Green Duck Shooters
Bolivian fields