Gaddafi, Abduction, JellyFish, Palm Oil
Libya
On July 31, Phelan reported "breaking news" that Libya's Al Fatah revolution (Gaddafi's 1969 bloodless coup, ousting King Idris from power, establishing the Libyan Arab Republic) regained power in Benghazi.
She confirmed that Libya's largest Warfalla tribe was marching to the rebel capital, as well as Libyan armed forces already there, adding:
sjlendman
Gaddafi's "green flag is (again) flying in military barracks in Benghazi. Massive celebrations will take place in Tripoli tonight."
_____________________________________________________________
Cole rolls over
Justin Raimondo, August 01, 2011
antiwar
During the Bush era, Prof. Cole was the go-to academic for trenchant analysis of why the neoconservative strategy for defeating terrorism – invading the Arab world – was disastrously misguided. Today he stands with the Obama administration and the neocons in their enthusiasm for the US/NATO-supported Libyan rebels, who are in no way different from Chalabi's Iraqi National Congress or any of the other CIA-backed exile groups, including Haftar's outfit. Incredibly, Cole had nothing to say about the assassination of Younes other than that it wouldn't mean beans in the long-run, as the rebels are headed for victory. If this brazen murder raised any questions in his mind as to the nature of the forces he's aligned himself with, Cole has so far kept silent.
_____________________________________________________________
Video shows undercover Isrli police abducting a Palestinian minor while playing socce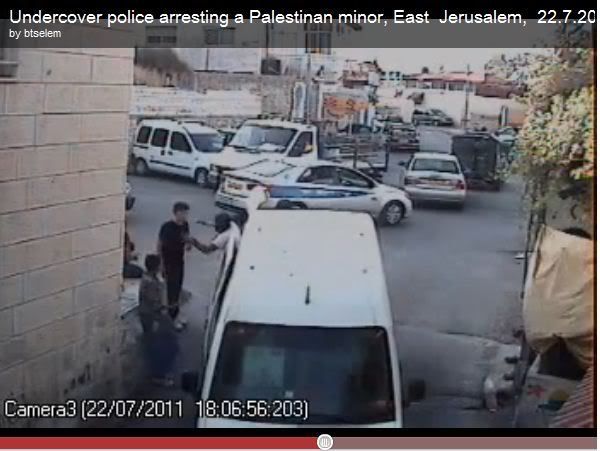 net
youtube
_____________________________________________________________
Monbiot has still got it
here he (inadvertently?) exposes a weakness on
Nukes:
Have I just witnessed the beginning of the end of vertebrate ecology here? If so, the shift might not be confined to Cardigan Bay. In a perfect conjunction of two of my recent interests, last week a monstrous swarm of jellyfish succeeded where Greenpeace has failed, and shut down both reactors at the Torness nuclear power station in Scotland.
The Israeli branch of Jellyfish Action pulled off a similar feat at the nuclear power station in Hadera this week.
A combination of overfishing and ocean acidification (caused by rising concentrations of carbon dioxide in the atmosphere) has creating the perfect conditions for this shift from a system dominated by fish to a system dominated by jellyfish.
If this is indeed what we're seeing, the end of vertebrate ecology is a direct result of the end of vertebrate politics: the utter spinelessness of the people charged with protecting the life of the seas.
monbiot
Both reactors at the Torness nuclear power station have been shut down after huge numbers of jellyfish were found in the sea water entering the plant.
bbc
....
Attack of the Jellyfish: Sea Creatures Shut Down ANOTHER Power Station...
Another power station was shut down by jellyfish today amid claims that climate change is causing a population surge among the species.
dailymail
_________________________________________________________________________
Palm Oil
gets a bad rap. Chiefly because its use to power 100kW chariots will starve millions of humans and extinguish lots of jungle beings.
However it does have a
thumping oil yield
, way ahead of Rape,Soy et al
Whats needed is agreement not to chop more jungle, And agreement not to burn the scraps.
If you dont burn the scraps then yooure capturing a bunch of Carbon.
Palm Oil yields: various sources (mostly pro eg unilever)
2 .. 3.2 ... 3.9 Ton/ha/yr
potential 6+
..................................
per 100 kg of fruit bunches = 22 kg of palm oil and 1.6 kg of palm kernel oil
yield of oil palm << 7,250 liters/ha/yr per ha avg 10 ton/ha/yr of fruit, = 3,000 kg of pericarp oil, and 750 kg of seed kernels => 250 kg of high quality palm kernel oil & 500 kg of kernel meal. Palm fronds and kernel meal are processed for use as livestock feed
Worldwide palm oil 2005-2006 39.8 million Ton of which 4.3 million Ton/ha/yrs was palm kernel oil. I
Oil palm plantations are capable of assimilating < 36.5 ton/ha/yr of dry matter cf 25.7 ton/ha/yr of dry matter/ha/year assimilated by rainforests. avg yield on a smallholding in Indonesia is 2 ton/ha/yr of oil .. could be doubled with better husbandry. .. a well-managed plantation can yield 8 or 9 ton/ha/yr per hectare.
sustainable
..Indonesian .... .. 3.18 /ha/yr palm oil ... less than Malaysia's 3.93 /ha/yr..
..could increase its current 3 Ton/ha/yr to 6 Ton /ha/yr..
com
Malaysia is working towards ..palm .. fresh fruit bunch (FFB) .. 35 ton/ha/yr ..by 2020 from the current .. 20.2 ton/ha/yr
palmoilhq
..average yield ..(FFB) ..to increase ..to 25 ton/ha/yr/ha/yr ..Malaysian Palm Oil Board (MPOB)/..
soyatech
Palm oil fruit clusters 40-50 kg. 100 kg of oil seeds = 20 kg of oil, 1 ha = 6,000 kg of crude oil,< 6,400 litres $800+Ton/ha/yr.. $115 per barrel, palm oil > conventional crude oil.
sceptreinternational
_________________________________________________________________________