Anzac day, Armenian Genocide Day, Song of Roland, El Cid, Dolly Gray, Hojatoleslam Sayyid Muqtada al-Sadr, Hayaniya
Anzac Day 2008
Why glorify those young men who followed Churchill's Anatolian adventurist folley? For that matter why are we now so chummy with Turkey, no mentioning of April 24,
Armenian Genocide Day
Why glorify those
thugs
who volunteered for USA's invasion of Vietnam?
Did the 39-45 affair produce freedom?
The two men who did most to win it were hounded to death. Without the code-breaking of
Alan Turing,
Rommel would have swept over the desert rats to Cairo. Turing Saved 2 years of European war, was hounded to suicide aged 42, because of his sexual orientation.
Robert Oppenheimer
managed the A-Bomb, saved 2 years of the Pacific War. Hounded out of Govt service because of pinko friends. Smoked 40 cigs a day, throat cancer at 62.
More Freedoms were won in the Cultural Rev. 67-76 Paris, Berkely, Shanghai, etc by dint of dropping out, than by lead and steel.
Says Oliver: "Companion, I beliee,
Sarrazins now in battle must we meet."
Answers Rollanz :"God grant us then the fee!
Song of Roland 1098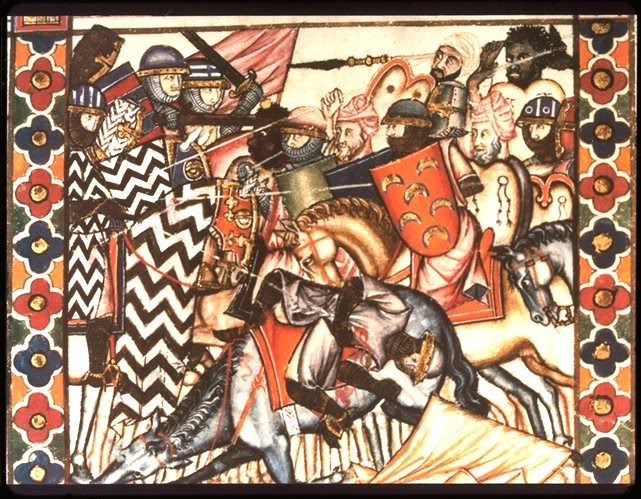 __________________________________________________
How we are weary of heroes, Roland
or Ruy Díaz de Vivar (El Cid) (the honourific, if derived from Sayyid is surely unwarranted)
"In 1081, El Cid, now a mercenary, offered his services to the Moorish king of the northeast Al-Andaluz city of Zaragoza, Yusuf al-Mutamin, and served both him and his successor, Al-Mustain II."
[Yusuf al-Mutamin wrote a treatise on the measurement of the parabola. He wrote
Kitab al-Istikmal
( Book of Perfection) on mathematics.
Beat that Charlton Heston.
Yusuf al-Mutamin was the son of the previous ruler, Ahmad ibn Sulayman al-Muqtadir, name ring a bell?]
[El Cid's sword Tizona, on display in La Real Armería Madrid, tested positive for Damascus steel]
_____
from
llizo
a blog favouring Charlton Heston anf the Tridentine Rite
__________________________________________________
While weary of Anzac day, lets not forget.
Especially my grandfather Lewis, who went off to fight the Boers, and 60 years later called his wife Anastasia by the pet name "Dolly"
I have come to say goodbye, Dolly Gray,
It's no use to ask me why, Dolly Gray,
There's a murmur in the air, you can hear it everywhere,
It's the time to do and dare, Dolly Gray.
_____
As of last Saturday 20Apr the USACoalition seems to be in Ayaaniya, Basra
air and artillery strikes by American and British forces cleared the way for Iraqi troops to move into the Hayaniya district
nytimes
"It was a hard day for us. The sounds of the bombs were terrifying the children and women, from morning until this afternoon," said Radhi Daraji, a Hayaniya resident. By late Saturday, he said, the situation was calm, but most Mahdi Army members had fled the previous night after getting wind of the offensive. "All of them escaped to outside Hayaniya."
nytimes
Hojatoleslam Sayyid Muqtada al-Sadr, has threatened an uprising, The Iranians may prefer him to stay in Qom. However they dont like the wall the USA are building in Sadr City, so the Mahdi Army may rise again
rferl
Anzac day
,
Armenian Genocide Day
,
Song of Roland
,
El Cid
,
Dolly Gray
,
Hojatoleslam Sayyid Muqtada al-Sadr
,
Hayaniya