Jet Carbon, Rail Oil, Bushra al-Khalil
chevron
jet fuel
Round Trip Carbon

| | | | | | | |
| --- | --- | --- | --- | --- | --- | --- |
| | | A330 | A380 | A340 | Lufthansa | |
| | km | 2.5 l/pc | 2.9 l/pc | 3.6 l/pc | 4.5 l/pc | |
| Manila | 6262 | 156.55 | 181.6 | 225.43 | 281.79 | litres |
| . | | 328.76 | 381.36 | 473.41 | 591.76 | kg CO2 one way |
| . | | 657.51 | 762.71 | 946.81 | 1183.52 | Round trip |
| . | | 179.5 | 208.22 | 258.48 | 323.1 | C/trip |
| Bangkok | 9290 | 232.25 | 269.41 | 334.44 | 418.05 | litres |
| . | . | 487.73 | 565.76 | 702.32 | 877.91 | kg CO2 |
| . | . | 975.45 | 1131.52 | 1404.65 | 1755.81 | round trip |
| . | . | 266.3 | 308.91 | 383.47 | 479.34 | C/trip |
l/pc = litres/person/100km
Lufthansa = average, including older?
C = kg of carbon (1kg CO2 = 0.273kg Carbon)
---
USA:2002: Transport Oil:
Freight rail 27.8% of the ton-miles with 220,000 bbl/day
trucks 32.1% of the ton-miles with 2.07 E6 bbl/day
Light commercial trucks 300,000 barrels/day.
This makes railroads more than eight times more fuel-efficient, as well as more labor-efficient than trucking.
---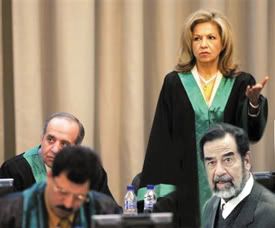 Bushra al-Khalil Saddams lawyer , dont know about her name, named after Iranian nuke? ok cache.boston crapped out, I hate it when my linked pics vanish, so I have found another pic & photobucketed it
Jet Carbon
Rail Oil
Bushra al-Khalil