Shonagon, Jeffryi, Leni Riefenstahl, Samar, siesta gauguin
_________________________________________
179. The Floorboards in the Ante-Room
The Floorboards in the ante-Room are shining so brightly that they mirror everything near by, and some crisp new straw matting has been placed near the three-post curtain of state. The curtains themselves give a lovely cool impression; when one pushes them they glide smoothly back, opening far wider than one expected and revealing the lady of the house, who under the faded dark robe she is using as her bedclothing wears a white unlined gown of raw silk and a crimson trouser-skirt.
By the light of the lamp one can see that the blinds further back in the room have been raised all the way; below them several women, including a couple of ladies in waiting, girl attendants, and others, sit leaning against the raised beam between the ante-room and the veranda. In another part of the room some more ladies are huddled together under a closed blind. A fire is smouldering deep in the incense-burner, giving out a scent that is vaguely melancholy and full of a calm elegance
Late in the evening there is a stealthy tap outside. A lady-in-waiting (the one who always knows what is happening) hurries to the gate and lets in the gentleman visitor. Then with a smug look on her face she stealthily leads him to the lady who has been awaiting his arrival.
From one side of the hall comes the beautiful sound of lute music. The player plucks the strings so gently that even when the murmur of conversation dies down one can barely make out the notes.
The majura no sôshi (pillow book) of Sei Shônagon 996CE
I read Shonagon instead of gossip columns. She is bitchier than any Malibu or Whale beach celebrity, and the high life details are more precise than Vogue or Harpers bazaar. It is both wearying and delightful than one thousand years has seen little change in foolish snobbery and fashion.
____________________________________________________
____________________________________________________
infoAnarchy WikiWiki
EFF
Copyright Holders Want to Hack Your PC!
Gallery of CSS Descramblers
____________________________________________________
..Jeffryi, worlds biggest eagle
cheapskate free bloggers can now show pictures linked to bigger ones...
__________________________________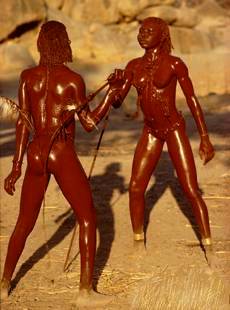 Nuba of Kau
Leni Riefenstahl, that old genius and buddy of Hitler at last is dead.
She got me fired from a great job in a company run by a young Jew.
He saw some pictures of Leni's Nuba on my desk and was admiring them.
I had to explain she was a famous friend of Adolf.
He was so embarassed at not knowing that, I knew my days in that job were numbered.
__________________________________
...Up in the Bundoks, Samar
Siesta PG 1848-1903
__________________________________