Big weekend. Alberto C, M's Grandfather died rather suddenly on Thursday. He had been very ill for only about a week. Alberto spent his last years surrounded by greatgrandchildren. I remember seeing him often, sitting watching TV, smoking a few cigarettes. In the evenings he used to have an occasional gin with men from the neighbourhood. One time I went to a cockfight with him, he told me which birds to bet on & we made 500P.
The house in Phase 9 really is at the bottom of the path. Deep poverty, although not as bad as the one-room shack the whole family was stuck in 1998, when I first met them. Alberto at least had a couch to sleep on. In previous times I used to see him sleeping on a wooden bench.
A patient man, only occasionally a gruff word when the five or six little girls playing in front of the TV got too boisterous.
Alberto was an ex-cop, surviving on a minuscule pension. I always wondered how such a small man could have been a cop. The family has stories of powerful police relatives: "Titoy Bu Boy" ("Uncle") actually Major Hernandez C. in the NBI, Sort of like the FBI only more so. A powerful family member. Another "Uncle" Edmundo "Munding"in the PNP (National Police) at Crame.
In July, when I was in RP and had a spot of bother, we were unable to contact Maj. Hernandez or Edmundo.
Maj H was down south in Mindanao fighting Abu Sayef. Camp Crame would not connect me to Edmund, they evidently didnt believe I was a family member.
I havnt heard if Edmund came down to the house for the wake, but Maj H definitely did. I bet he was shocked by the poverty. Its a steep walk down a path frequently missing the central concrete slabs over the drain.
I guess Alberto was uncle, anyway his death has served to cement the family. Powerful connections, just what is needed in RP. Last year the Majors office , with one phone call, brought back a hundred bucks that a guy scammed off me. The crook was so frightened that he came round and begged me to take the money back. Now if we can get the Major onto another case, involving rather more money, then M can buy a scooter (I am rather dreading the idea of her zooming round deeply terrible roads, without helmet or leathers)
The wake went on all Friday night, a couple hours sleep, than all Saturday night. I had to stop sending money for rice and RedHorse, because it looked like becoming a week-long event for the whole neighbourhood. Im glad the Major arrived to see who it is that buys the rice in a family crisis.. I had a long chat with him, I have his cell-phone number.
At the time we were on the phone, the Presidential Emergency Response Team led by Maj Gen Senga,were apparently
shooting al-Ghozi dead in Cotabato. al-G was "the top" JI bomb maker, He walked out of Crame prison in July, while John Howard was chatting with President GMA. Possible that he was shot a while back, and brought out of the freezer for 12th October, just before GeorgeW's stopover in RP.
I bet Maj. H was annoyed to be on the phone to me while the excitement was happening.
_____________________________________________________________
in other news, not related, 40 Taliban escaped from Kandahar together with their 6 guards. Then 80 guys on motorbikes trashed a district office down in Zabul.
Twin car bombing in Baghdad. Summer may be over but the heat is not.
______________________________________________________________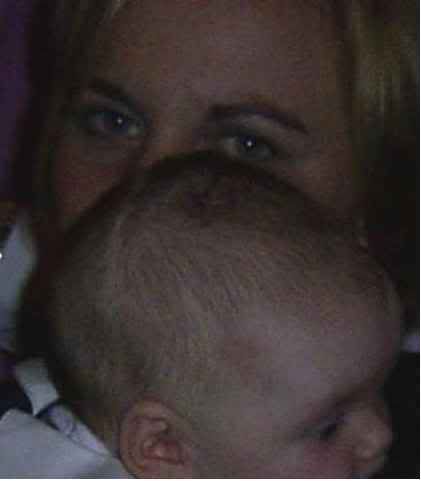 eifa & sinead at caties wedding? or liz's ?
_____________________________________________________________